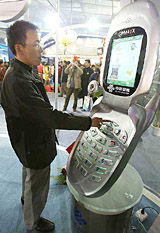 I've heard of big phone bills, but
this one
takes the
cake
:
KUALA LUMPUR, Malaysia (AP) — A Malaysian man was speechless when he received a $218 trillion phone bill and was ordered to pay up within 10 days or face
prosecution, a newspaper reported Monday. Yahaya Wahab said he disconnected his late father's phone line in January after he died and settled the 84 ringgit ($23) bill, the New Straits Times reported. But Telekom Malaysia later sent him a bill for 806,400,000,000,000.01 ringgit ($218 trillion) for recent telephone calls along with orders to settle within 10 days or face legal proceedings, the newspaper reported.
That had to have been an out-of-country, international, 1-900 call. Even with that, I don't see how its possible to rack up $218 trillion in charges - especially on one line. If I'm not mistaken, that's more than the GDP of the entire world.