I'm back, as promised, with my last 2 reviews:
The Bourne Supremacy
Robert Ludlum
Don't get me wrong, it's not a bad book, but it seems like the success of The Bourne Identity demanded a sequel from Ludlum even though the first book wrapped itself up with what I consider one of the better endings of an airplane novel. As such, it takes an awful lot of somewhat contrived narrative to actually get him to a point where he's in the story and propelling the narrative. The necessity of giving Bourne an ending where you feel like Ludlum absolutely ruined the first novel for you means that to some degree Marie is put in unnatural amounts of danger to keep her busy until she needs to be pulled out to help out Bourne. To some degree I liked the movie better than the book. I liked the style of writing and I did like the story in general, but it really felt like if there was to be a sequel to The Bourne Identity it needed to revolve around Carlos the Jackal's threats against Bourne. As such I picked up The Bourne Ultimatum but am waiting to read it to watch the third film first.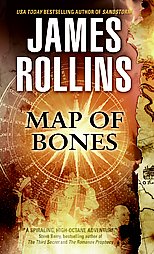 Map of Bones
James Rollins
I picked this up on a recommendation from a friend who knew that I loved
The DaVinci Code
. The end result of it was that it's not Dan Brown, but it was excellent. The characters in the book have a much more paramilitary bent than Robert Langdon, and the book plays towards that strength. It's not the most amazing piece of literature in the world, but it's well worth picking up a copy and reading it. Some of the technology described seems a bit out of this world, beyond the typical central crux of the story, but I probably wouldn't be saying that in a few years from now.